Submit your short films to the Atheist Film Festival!
By Sasha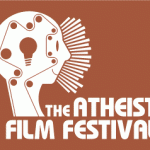 Want the opportunity to share your cinematic vision with hundreds of other atheists, skeptics, and freethinkers on the big screen, and a chance to win $250? Every year, the Atheist Film Festival in San Francisco (AFF) features a selection of provocative, engaging, thought-provoking, and/or hilarious short films. _Whether you're an amateur filmmaker, pro, semi-pro, or never operated a camera other than your smart phone, they want to see what you can come up with!
Topics concerning atheism, agnosticism, skepticism, science, or a secular approach to human are encouraged. Beyond that, it's up to you. AFF wants a shorts program that reflects a plethora of secular perspectives and the diversity in our community, coming from all different genders, races, ages, sexualities, and nationalities. The deadline isn't until June 30th, so you've still got time to put something together if you've got a great idea.
Selected films will be screened at the festival on August 11th, 2012, and one grand prize winner will receive $250 and the first annual Atheist Film Festival filmmaker's award. See the flyer below or visit& sfatheistfilmfestival.org& for guidelines and more information. AFF looks forward to your entries!
Not interested in submitting a film but still want to help out? Download the flyer and post it on your campus, bring it to meetings with your local secular groups, leave copies at coffee shops where creative types hang out, or link to this post on Facebook, Twitter, Google +, etc. You can also consider becoming a sponsor. Thanks for your support!_